Let yourself be guided by your inspiration to create your
Personalized women's bracelet U'Turn triple
The U-Turn is a flagship model from our women's bracelets. With its minimalist half-bangle clasp and its interchangeable leathers, the U'TURN TRIPLE is transformed into a palette of colors between leather and metal to create a personalized bracelet that adapts to all women and personalities. Choose the color of your clasp and the color(s) of interchangeable leather to create the bracelet(s) that suits you and will accompany you with style in your looks from the most classic to the most daring.
To create your personalized bracelet
Select your size and click on "configure".
Choose the finish of the clasp between silver and bright gold.
Personalize the leather of your bracelet with an engraving.
Add an optional interchangeable leather, cuff or triple wrap, to create as many variations to accessorize your different styles or moments of your life.
Be inspired! strong>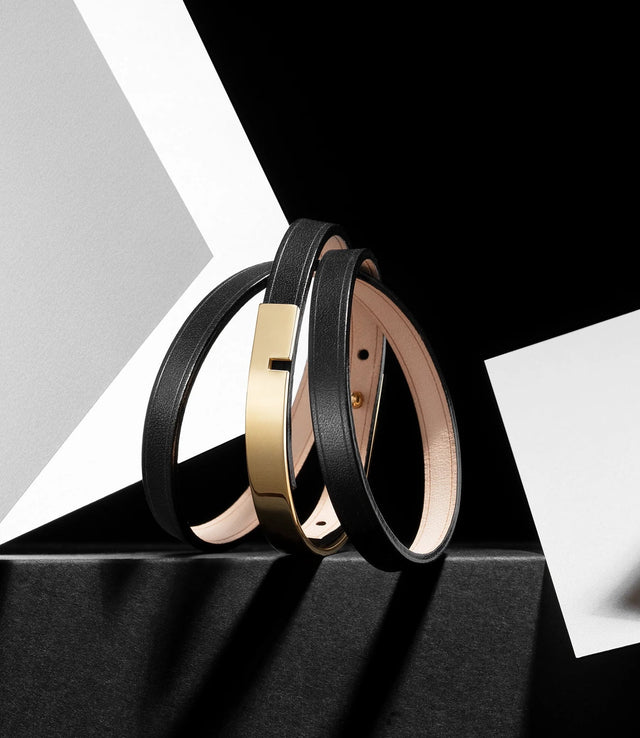 I create my personalized women's triple wrap bracelet.
From €151
To personalize your woman U-TURN TRIPLE bracelet first select your size.
SIZE GUIDE
Our sizes are expressed in cm and correspond to your wrist circumference, to be measured precisely with a tape measure or string.
SMALL - 13cm / 16cm
MEDIUM - 16cm / 17.5cm
If you don't have a tape measure:
PRODUCT DETAILS
- Leather width: 9mm
- Half bangleis in 316L surgical steel.
- PVD steel treatment: silver or gold.
- Hand-shaped leathers in Paris.
METALS
The buckle of the personalized U-Turn women's bracelet is made of surgical steel, an extremely hard metal that is not afraid of oxidation or scratches. The silver and PR colors are obtained thanks to a high resistance PVD treatment.
PVD treatment (Physical Vapor Deposition) is a metallization process used in the luxury watch industry. borrowed from high-tech industry. This process makes it possible to obtain a very wide range of shades (yellow gold, pink gold, black steel, gun steel) and has the characteristic of extreme resistance to wear and oxidation.
PRODUCT REVIEWS
RETURNS AND EXCHANGES
Returns :
You have the possibility to exchange your product within a 21 days from receipt of your order. Return postage costs are at your expense, reshipping of the exchanged product will be at our expense. Packages must be returned in colissimo with signature and insurance.
Refunds :
You have a period of fourteen (14) calendar days to return the products and get a refund. After receipt and inspection of the item, we will refund the amount paid excluding shipping costs by the same payment method used when placing your order within a maximum of 10 working days.
With its interchangeable leathers, the customizable U-Turn bracelet adapts to all styles.
Discover our personalized bracelet for women
The personalized Ursul Paris women's bracelet is a timeless piece of jewelry. Metal and leather are two noble materials known for their durability. Opting for an Ursul Paris leather bracelet means choosing a high quality piece of jewelry. Our creations are worked with precision and finesse thanks to ancestral know-how.
The personalized bracelet for women lets all personalities express themselves on a daily basis. His chic and modern look makes him a real ally at work, as well as on important occasions. It is also a personalized gift that brings pleasure to the women around you.
Personalize your women's bracelet
The personalized Ursul Paris bracelet is available in several models. These different versions allow you to find the leather bracelet that suits you. Our models are available in single turn, double turn and even triple turn. Enough to adopt the minimalism and audacity of our personalized bracelets in all circumstances. There are also three ways to personalize your U'TURN leather bracelet.
Customize the clasp of your women's bracelet
The metal clasp of our personalized bracelet for women brings a touch of modernity to this jewel. To suit all women, this clasp is available in four finishes. You therefore have the choice between a clasp in matte gold, matte silver finish and even in matte black and matte gun steel. Choose a finish that truly reflects your personality.
Customize the leather of your women's bracelet
Our leather bracelets have the particularity of changing indefinitely. Once your clasp has been chosen, opting for several colors of leather straps is ideal. This allows you to wear our personalized bracelet for women every day: at work or for any other event. Our bracelets are also available in exotic leather, notably iguana leather, to enhance an outfit with an even more luxurious accessory.
Engrave your women's bracelet with the message of your choice
Ursul Paris also offers to personalize your leather bracelet with an engraving. Its length depends on the model you choose. You can create a tailor-made gift, personalized with the recipient's first name. Take advantage of the longest leather bracelets to engrave an emotional message or a short quote. The engraving makes the Ursul Paris leather bracelet even more unique.
How to choose your personalized bracelet for women?
The personalized bracelet for women can be chosen according to your tastes and your style. Opting for a silver or matte gold clasp allows you to obtain a classic piece of jewelry that can be worn for any occasion. Choosing a matte black or matte gun steel finish is ideal if your personality is more rebellious. Choose several colors of leather straps to adapt your bracelet to all situations. Choose classic, neutral colors for formal events. On a daily basis, let your originality speak with bold colors.
Finally, in the case of a gift to a woman around you, don't hesitate to personalize the bracelet with an engraving. Opt for an emotional message if you offer it for Mother's Day. Choose to personalize it with the first name of the lucky recipient in the case of an upcoming birthday or birth. The choices are endless and the engraving allows you to offer a unique bracelet.
Ursul Paris, a personalized bracelet brand for bold women
Why buy your personalized bracelet for women on ursul.fr?
On our online store, you can design your personalized bracelet for women in real time. This allows you to visualize the outcome of the jewelry you are making. When your bracelet is finished, all you have to do is confirm your purchase using our secure payment system. We offer different deliveries in France and Europe.
Delivery to a relay point is free, unlike delivery to your home or workplace. In the case of a gift purchased at the last moment, Ursul Paris also offers express delivery. You will receive your personalized bracelet for women within 1 to 2 working days. If the bracelet does not fit, please note that it is possible to exchange it or return it to us. All within 21 days after your order.