LE JONC | 20 gramme
A beautiful thick bangle that proudly wears its 20 grams of matte silver.
You can recognize it by its unique "shape". This distinctive flat
that hugs your wrist to perfection.
Two U-shaped notches are discreetly designed in the precious metal as a brand signature.
It is our interpretation of a sleek and essential men's bangle.
Made in France in the Alps.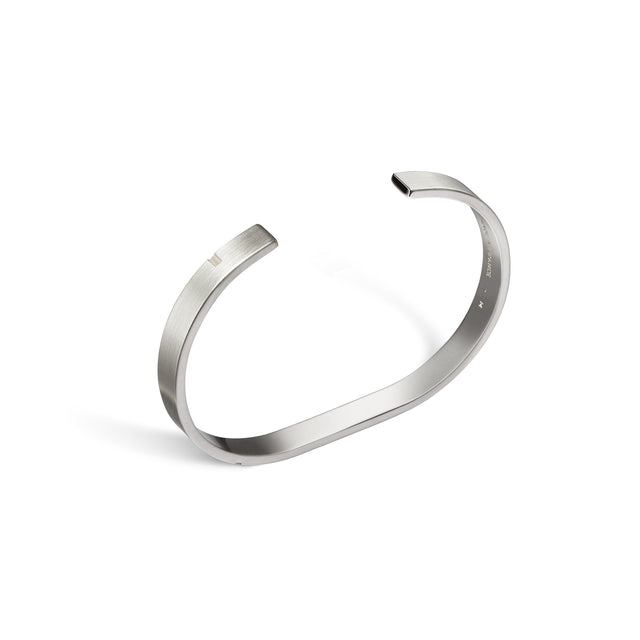 Silver bangle 20 grams | LE JONC
Silver bangle 20 grams - Thought with this characteristic line of our designs: a solid color that hugs the flat of your wrist. A unique style and unparalleled comfort. Its weight, 20 grams, makes it a pleasant bangle to wear every day. A bangle that is forgotten and that underlines your style with discretion. A sleek and masculine essential men's bangle.
Width: 6mm
Thickness: 2mm
Weight: 20 grams
Silver 925/1000 passivated
Exterior finish: brushed matte
Interior finish: mirror polished
Matte black case with logo.
SIZE GUIDE
Measure your wrist with a tape measure and select your size.
Small: from 15.5 to 17.5cm around the wrist
Medium: from 17.0 to 18.5cm around the wrist
Large: from 18.5cm to 20cm around the wrist
PRODUCT REVIEWS
RETURNS AND EXCHANGES
Returns:
You have the option of exchanging your product within within 21 days of receipt of your order. Return postage costs are at your expense, reshipping of the exchanged product will be at our expense. Packages must be returned in colissimo with signature and insurance.
Refunds:
You have a period of fourteen (14) calendar days to return the products and get a refund. After receipt and inspection of the item, we will refund the amount paid excluding shipping costs by the same payment method used when placing your order within a maximum of 10 working days.